Manual Micro-Welding Laser Systems
are an Alternative to Traditional GTA Welding!

Today's small precision welding shops specializing in plastic injection mold, dies and tooling repair have a wide range of new technologies available to enhance their ability to provide the highest level of quality, craftsmanship, and service to their clients. One of the fastest growing technologies is the use of manual micro-welding laser systems as an alternative to traditional microscope GTA welding.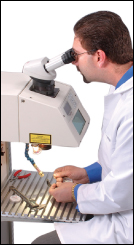 Tool and Die shops currently using laser welding systems are often amazed at the wide range of applications and ability to produce a higher quality product in less time with fewer materials while eliminating excessive heat effects.
One of the key elements in making manual laser welding applicable to Tool and Die or Mold manufacturing and repair was the development of the "free-moving" concept. In this approach, the laser generates a stationary infrared light pulse which is targeted through the microscope's cross-hair. The laser pulse can be controlled in size and intensity. Because the heat generated remains localized, operators can handle or fixture items with their fingers, laser welding small areas with pin-point accuracy without causing any harm to the operator's fingers or hands. This free-moving concept, enables users to eliminate costly fixturing devices and increase the range of assembly and repair applications.
Laser welding is ideal for modifications and repairs on molds, tools and dies whether due to damage, wear and tear, or a change in workpiece design. The process is quick, precise and will not damage surrounding surfaces.
"Just 6 months after purchasing our manual laser welder, it accounts for approximately 30% of sales. Crossover from microscope GTA welding was easy and fast. Just two days after receiving our LaserStar Laser Welding Workstation it was operational and we had repaired our first mold. I'm confident of a very quick pay-back."

- Pete Mourouzis
Wicked Welding, Inc. , Dayton, OH  
Micro Welding Laser Systems for Mold Repair and Tool and Die Maintenance

LaserStar micro welding laser systems are ideal for a wide range of large plastic injection mold, tool & die maintenance and repair applications.
Lay a bead as small as .0025" / 0.05mm

Repair slots, pockets, radius contours and angles

Repair polished, textured and engraved surfaces

Repair thin walls with little or no warping

Repair parting line edges and heat sensitive areas

Alloys include tool steel, aluminum, copper, titanium and powdered metals
LaserStar micro welding laser systems produce a high quality result, reduce the amount of handwork required before polishing and practically eliminates sink lines.
For more information on LaserStar laser welding products, please visit our website at www.laserstar.net.