Laser Welding Improves Product Reliability for Patients
Gino Mercurio is a manufacturing engineer for the Boston Scientific Neuromodulation Division (Valencia, CA), which manufactures implantable pulse generators (IPGs) that are used to stimulate the spinal cord to eliminate pain in patients. Thirteen years ago, laser technology was introduced to various processes used in the assembly of spinal cord stimulation devices. One of the primary laser uses is bonding very small connection areas where the weld nugget size is critical. The laser technology ensures consistent weld nuggets, resulting in long-term reliability in patient use.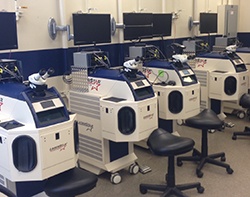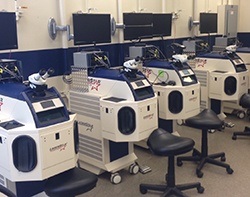 Very small connection area bonding was one of the earliest industrial solid-state laser applications dating back to the early 1960s, when the processing advantages of delivering precisely controlled amounts of laser energy to join fine wires to contact points gained widespread acceptance. Pulsed laser-produced energy from ruby lasers, followed by neodymium-doped yttrium aluminum garnet (Nd:YAG) lasers, was ideal for low-distortion fusion joining of fine wires, as the pulse repetition rates of later lasers became compatible with serial processing schedules in components assembly situations. As the required energy density in a larger-diameter focused spot to produce a relatively broader electrical contact area for higher current-carrying capacity increased, the average output power of the lasers increased. Also, units with sufficient power on a pulse-to-pulse basis with long-term output power stability over many thousands of pulses became the norm in industries with wire-to-contact assembly operations.
At Boston Scientific, as production ramped up on the implantable devices using an already installed laser welder, Mercurio was looking at the latest laser welding technology to use on its production floor to continue building product at increased volumes with high quality.
In 2005, Mercurio discussed this situation with an acquaintance, also an equipment sales representative, who suggested he might have a solution from one of his principals—laser equipment manufacturer LaserStar Technologies. He offered to run tests on a unit and the results were more than satisfactory, to the point that the company purchased its first LaserStar Laser Welding System to replace its older laser unit.
Since then, based on overall laser system reliability under its production schedule, Boston Scientific had added LaserStar units totaling more than 20 units across the organization. Specifically in Valencia, LaserStar laser welders are being used both in a manual configuration as well as upgrading to two fully automated laser welders for higher-volume production. Answering Mercurio's reliability needs, the original LaserStar unit is still in production, operating on a routine production schedule with little or no service requirements. He calls this unit a 'workhorse,' having only done routine maintenance on it.
About LaserStar Technologies

LaserStar Technologies, which also has facilities in Orlando, FL and Arcadia, CA, celebrated its 60th anniversary in business in 2017. The company was founded in 1957 in Riverside as a supplier of chain making, linking, wire forming, and bending machines. During the 1990s, LaserStar became one of the first U.S. manufacturers of Nd:YAG micro-welding laser systems. Gradually, the chain-making business matured and started to be phased out as the company reinvented itself and became primarily a producer of laser welding systems—a position it still sustains.
As a 100% "Made in USA" micro-welding laser manufacturer directly servicing North American industries, LaserStar Technologies also sells laser marking, cutting, deep engraving, and CNC laser machining centers to many industries, including the medical device industry.
James Gervais, LaserStar president and CEO says, "We're evolving into a software company that manufactures lasers as opposed to being a laser manufacturer that uses third-party software. The reason that's important is because more and more of the laser engraving application requirements, as well as industrial production guidelines are communications-based on how the machines operate and information is transmitted, and software is a critical link."
LaserStar's mission statement has always been to collaborate and work with its customers. "I think that's a testament to our success," Gervais says. "We listen very intently to not only their needs and requirements, but believe we're good at listening to their constructive feedback on how we can improve. That's an area we strive to focus on. We're proud that our products are made here in the United States. It's a big deal today. It's very important to produce a product that supports the national economy, as well as collaborating with people from all over the country.
"We are very conscious of our origins and our foundation, being a family business," Gervais continues. "We believe very strongly in reinvesting in research and development for tomorrow's products. We're constantly looking at how we can improve or evolve our existing product lines or cannibalize them if a new, lower-cost solution needs to be brought to market. We would rather be on the offense than on the defense and have a competitor coming in and catch us by surprise. We're constantly trying to drive the progress of the industries we're in."
Are you interested in learning more about Laser Welding Machines for Medical Devices? Please contact LaserStar to learn more about our laser welding solutions in the medical device industry.
This article was originally published as an Industrial Laser Solutions web exclusive article and written by David Belforte, Chief Editor, ILS. Please click here to view the original article.