Why Choose Laser Engraving Over Traditional Engraving Methods
More people are choosing to have their jewelry personalized with laser engraving. This is giving designers and stores specializing in jewelry the reason they need to invest in this modern technology. As a result, laser engraving is making significant inroads into the jewelry industry, with its ability to engrave almost any type of metal and the options it has to offer. Wedding and engagement rings, for example, can be made even more special by adding a message, date or an image that is meaningful to the buyer.
Roots of Jewelry Engraving

The engraving of items of jewelry dates back to prehistoric times, when it mainly took the forms of carvings on decorative stones. Engraving on copper plate was invented in the 15th century and became a popular method of etching identifying marks and messages. This was the start of what we call traditional engraving, which was mostly done on soft metals such as gold, silver and platinum. The birth of the new system of laser engraving, however, makes it possible to engrave on harder surfaces, such as those used in rings, pendants, bracelets, earrings and watches.
Why Laser Engraving?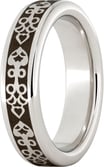 So what's so special about laser engraving, and what's the difference between this method and traditional engraving? Quite a bit, actually:
Laser engraving, or etching, is a process of "ablating" the metal by removing the surface material to create an image.
Laser marking uses an annealing process, which heats the surface of the metal so it changes the color, leaving surface marks without breaking the surface of the material.
The laser provides clean, environmentally-friendly technology, which is chemical and residue free and doesn't come into contact with the jewelry.
Laser technology gives the jeweler the chance to create exquisite designs with no risk to the item itself.
Laser marking results in precise detail, which lasts longer than traditional engraving.
It's possible to engrave text or graphics into the material at very specific depths.
Laser Engraving Jewelry
Laser engraving and laser marking can be used to inscribe personal messages and special dates on jewelry made from almost any metal. While traditional jewelry was made using gold, silver and platinum, modern jewelry designers use alternative metals such as tungsten, steel and titanium to create fashionable pieces. With the laser marking system operated by world-class laser marking software, it's possible to add unique designs to any jewelry item for your customer, or to add a serial number or other identification mark to enable the owner to verify the item for security purposes. You can also add a vow to the inside of a wedding ring.
How Long Does Laser Engraving Last?

The engraving of a special message inside a wedding ring is meant to last, but its permanence depends on several factors. Whether it's done using traditional or laser engraving, the type of metal the piece is made from affects the durability. Soft metals scratch easily and are subject to wear and tear, and contact with the wearer's skin over a number of years might cause the engraving to blur or become worn. Engravings on harder metals last longer, and because laser marking is more effective on harder metals, it generally has a longer lifespan.
Choosing a Laser Engraving System


Fiber laser engraving systems are ideal for the engraving of jewelry. The machines use a laser beam delivered in short pulses needed for quality ablation and annealing. The equipment generally lasts for more than 35,000 hours of life and uses little in the way of consumables. Choose a laser engraving system that comes with laser engraving software containing a wide variety of fonts and images, which will enable you to perfectly personalize any jewelry item for your customer.
For more information concerning the possibilities available with a engraving system, please contact us today. We invite you to download our free product catalog and to view our informative educational videos. The world of laser engraving is exciting and new innovations are being introduced every day. We would like to share that world with you.
To learn more about laser engraving technology, please contact LaserStar today! If you are interested in learning more about our laser product line, please download our latest product catalog now.