With more growth in the works, LaserStar celebrates 60 years of an evolving, dynamic business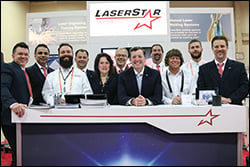 LaserStar Technologies is celebrating 60 years in business the perfect way: The leading manufacturer of jewelry laser systems is doubling the size of its facility in Orlando, Fla., putting its Southern operations on par with its flagship facility in Providence, R.I.
"One of the things we're most excited about is breaking ground in Orlando to build the new production facility next to our existing facility," says James Gervais, President and COO. "Our corporate goal is to establish the capacity to produce 1,000 lasers a year. We're excited that we should be breaking ground in the next 75 days."
The current Florida facility houses all aspects of manufacturing, engineering, production, service and support. "We've just maximized the space," Gervais says. "The products built there are in high demand. So we're building a new production facility next door. When completed this will provide us a facility that is approximately equal in total square footage to our Rhode Island facility, which is about 25,000 square feet."
Orlando has been a good fit for LaserStar, which established a base of operations in Florida in 2005. "We're right in the heart of Orlando's industrial and tourism sector, close to the airport and convention center," Gervais says. "The level of customer visitation that happens in FL is extremely high. This year we're anticipating we'll probably greet over 200 visitors to that space alone, who will come for training and demonstrations. It really has become a "go to" destination for our clients. They visit us, spend the weekend, go to the parks and attractions, or take a few days of vacation and travel out to the east or west coast of Florida. So the business model we put in place for Florida in 2005 has been very successful. People aren't crazy about coming to New England from November thru March," he laughs.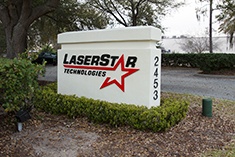 Gervais has been with LaserStar for 30 years of its 60-year history. "My Father bought the company in 1988 and we began reinventing the business since the '90s, when we began focusing directly on the laser sector. The company was also heavily involved in jewelry chain making machines and linking machines, and a variety of wire forming and bending products. Over time, lasers became more important. Those products grew and the others had reached maturity and started to be phased out. Around 2000, we were primarily producing laser welding systems. We've been that way 17 years now.
"Fundamentally, this company is a classic American success story where we are designing and engineering products that are made in America. We started very small many years ago and have grown through the ingenuity and creativeness of our employees – and we continue to expand into different markets."
LaserStar had 20 employees when Gervais' family took over the business in 1988. It was a small tool and die business in the heart of the Providence costume jewelry manufacturing center. "That was the genesis of how the company was born in 1957, providing machinery and support to the greater Providence costume jewelry manufacturing area," Gervais says. "For decades, Providence was the hub of the costume jewelry industry for the United States, starting after World War 2 until the early 1990s. That's how this company got its start, serving and supporting that marketplace."
"Like anything else, things change and the production of those costume components and jewelry items moved to the Far East. It hurt the economy in Providence, but the mass merchants of the world were the big players now for costume jewelry. The people who wanted to stay in the game couldn't cost-effectively produce the product in the southern New England area. By default we started to look at how to reinvent ourselves, and started working with the laser systems in 1990. Laser welding was growing, and our other products were starting to reach their saturation. Fortunately LaserStar was selling jewelry production equipment worldwide, but like anything else the pie was only so large. We wanted to continue to expand and grow the company, and we've accomplished that goal." The company now has 90 employees.
Aside from Rhode Island and Florida, LaserStar has a third facility in Arcadia, CA, on the outskirts of Los Angeles. The company's high wattage laser welding systems are designed, engineered and manufactured at the Providence production facility. All of its laser cutting, marking and deep engraving systems are designed, manufactured and engineered at the Orlando facility. The Arcadia sales, service and training facility also houses an applications laboratory.
"We have sales, service, and apps lab infrastructure in all three locations," Gervais says. "So it's empowered us to service and support the marketplace, to exceed our customers' expectations nationwide from a three-pronged approach – from the Northeast, the South and the West. We also have strong strategic partnership alliances today with 18 international resellers. We annually export approximately 30 percent of all the machinery we make through these partners. This year we will produce approximately 650 laser systems, and roughly 180 to 200 of those will go overseas. The rest will be sold in North America."
About three years ago, LaserStar decided to invest in producing software. "We're evolving into a software company that manufactures lasers as opposed to being a laser manufacturer that uses third-party software," Gervais says. "The reason that's important is because more and more of the laser engraving application requirements, as well as industrial production guidelines are communications-based on how the machines operate and information is transmitted, and software is a critical link."
LaserStar's mission statement has always been to collaborate and work with its customers. "I think that's a testament to our success," Gervais says. "We listen very intently to not only their needs and requirements but believe we're good at listening to their constructive feedback on how we can improve. That's an area we strive to focus on. We're proud that our products are made here in the United States. It's a big deal today. It's very important to produce a product that supports the national economy as well as collaborating with people from all over the country."
"We are very conscious of our origins and our foundation, being a family business. We believe very strongly in reinvesting in research and development for tomorrow's products. We're constantly looking at how we can improve or evolve our existing product lines or cannibalize them if a new, lower-cost solution needs to be brought to market. We would rather be on the offense than on the defense and have a competitor coming in and catch us by surprise. We're constantly trying to drive the progress of the industries we're in."
For more information about LaserStar Technologies, you can call 401-438-1500 or visit the Web site at www.laserstar.net or www.laserstar.tv.
This article was published in the May 2017 issue of Southern Jewelry News / Mid-America Jewelry News. Written by Elizabeth Pinson.