Tools Jewelers Say They Can't Live Without for Jewelry Repair and Design
Laser Welding Machines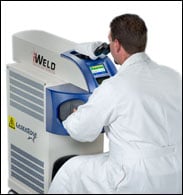 Fine Jewelry in Ventura, California, puts it plainly: "We've had a laser welder for years. We love it and couldn't live without it. Well we could, but we wouldn't. Anybody who can own one should. We also have CAD-CAM and a mill. They're 21st century tools, I tell my competitors, don't buy these tools or master their use. Leave the field for me."

What do custom jewelers dream about besides fantastically low-priced raw materials, pleasant, punctual, sweet-natured suppliers and mellow, easy-going clients. They dream about machines: smart, sophisticated, high-tech wonders that can do in seconds what seasoned pros take hours to do. And the ones they dream about most often are CAD, laser welders, water jets, mill and laser engravers

Are these laser welding machines expensive? You bet, and the jewelers we talked to who purchased them said that in some cases they held their breath and asked themselves, "What am I doing?" But, once they mastered their new purchases and began applying them to their repair work, they soon saw dramatic changes in productivity. They also saw the opening of profitable new niches and realized it was well worth the expense.
The current economic downturn may be an ideal occasion to consider buying one of these instruments. Manufacturers are more willing to deal when business is slow, and the decline in traffic gives some jewelers time to study and gain skills with new tools.
Staying competitive is another good reason to take a look at these laser welding machines.
Days Without Using a Torch!


What a Laser Welder Does:
Unlike torches, which create an intense, diffused heat that affects everything near it, laser welders can focus heat on a pin-point-sized target while leaving the surrounding area relatively cool.
Why Should You Have a Laser Welder?
Quick spot welds save bench workers a lot of fumbling (and cursing). Lasers welders also allow designers to work more easily with difficult metals like platinum and silver, and to avoid accidentally heating and altering gemstones. The result is faster, cleaner work that bumps up the bottom line.
"Our LaserStar laser welder is probably our favorite tool. We can go days without turning on a torch because of it," says Jeff Walker, head designer at Cornell's Jewelers, Rochester, New York. We've had it for seven years. We'd been told it was good for laser welding close to stones because it could direct intense heat while leaving areas around it cool," he says. But the major reason the store bought it was for platinum ring sizing, ring pronging and ring retipping. "With the laser welder there was no loss of alloy when we heated things. With silver, which transfers heat dramatically faster than other metals, thereby affecting gemstones in silver rings, we found we could work much more confidently."
Walker was pleased at how much they could do with the laser welder when it came to fixturing and putting things together. "Where we used to use tweezers to hold a head in a shank, zap it to hold it in place, then solder at leisure. We find that we could laser solder things that we couldn't before."
He says the laser welding machine was a fairly large expenditure. "Back then the cost was about $35,000 or $40,000. The price has come down considerably and the technology has gotten better, especially when it comes to laser welding silver.
For more information concerning the possibilities available with a laser welding system, please contact us today. We invite you to download our free laser product catalog and to view our informative educational videos. The world of laser welding is exciting and new innovations are being introduced every day. We would like to share that world with you.
Modern Jeweler, March 2009