Laser Engraving Custom Rings

Laser ring engraving is one of the exciting new options available to jewelers since the discovery of the power of laser marking. A clean, environmentally-friendly process that makes no use of chemicals, needs no consumables and works on the basis of non-contact, abrasion-free marking, laser ring engraving has given jewelry manufacturers the opportunity to create endless exquisite designs. Laser engraving is a simple process managed by world class software, which transforms a plain ring into a uniquely-designed piece of jewelry.
Types of Metal


Jewelry manufacturers use many different types of metal in the creation of rings. The metals used most commonly for rings are gold, sterling silver and platinum, although palladium, rhodium and titanium rings are also found in high-end jewelry stores. Gold used for rings varies from pure 24-karat gold down to 9 karat, which is an alloy containing quantities of silver, copper, nickel and zinc. Stainless steel, tungsten, brass and copper are found in rings made for costume jewelry and are usually cast in avante-garde designs.
Engraving Method
A precision laser marking machine is used for laser ring engraving, operating under guidance of sophisticated software programmed with the marks that are to be made on the ring. Each ring is mounted on a rotary motion device that turns it in time with the pulses of the laser, exposing a new section of the ring to the laser with each turn. The laser works on a controllable pulse operating at an adjustable rate, which varies from a single pulse to a continuous wave. The user interface of the CAD2 software is Windows-compatible, and comes with True Type fonts, 2-D matrix codes, barcodes, vector graphics and images.
The type of designs available for laser ring engraving include intricate graphic elements, photo images, or the engraving of names as was the fashion on signet rings in the past.
The non-contact laser ring engraving technique can produce lines of text as small as 10 µm without causing abrasion or damage to the ring, making it possible to add poetry to an eternity ring or excerpts from marriage vows to a wedding band, or the name of the loved one and a memorable date on the inside surface of the band.
A photo image can be engraved on a ring large enough to display it, so the wearer can be reminded of the loved one who presented the ring.
Identification Options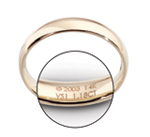 Rings with unique designs are often sold as collector's items, especially those produced in limited quantities by famous jewelry manufacturers. A jeweler can use laser ring engraving to add serial numbers to all rings in a particular range, identifying each as an item in the range and enabling the buyer to verify authenticity. Owners of exceptionally valuable rings may use laser engraving to laser mark rings as their personal property, both for the purpose of reducing the cost of insurance and for identification purposes in case of theft and recovery.
Branding Techniques

Piracy is rampant in the 21st century, and a jeweler wanting copyright protection over a unique ring design may want to engrave identification symbols or a serial number inside the ring:
The new laser engraving technology used on rings enables the manufacturer to add unique markers that are invisible to the naked eye, without damaging the surface or needing polishing after the task.
For jewelry designers who want to brand their rings in a more noticeable way, a logo or brand name can be engraved easily inside the band.
The possibilities presented by laser ring engraving capabilities are endless, and have changed the landscape of jewelry design forever. To learn more about laser engraving, download our laser product catalog now.