Direct Part Marking is a Requirement in Many Industries

Laser marking and engraving system technology has evolved. Permanent, attractive direct part marking of logos and part numbers are no longer a luxury and in fact, it is a requirement in many industries.
The value and inherent benefits of computer aided laser marking systems are being understood more and more each day. The unique, high quality images and machine readable codes that laser markers are capable of producing today, easily trump the simple alpha-numeric markings seen previously. The potential uses of laser marking are vast: jewelry, firearms, aerospace components, medical equipment and devices, electronics and many other parts which necessitate marking are all prime candidates for this procedure.
Advantages of Laser Marking Technology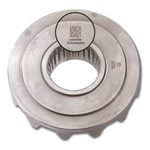 Time and technology have delivered us into a future where laser marking, engraving and etching using newer laser technology out-strips the cost and quality of the product so much that the market is changing for manufacturers. High precision laser markings and laser engravings are achievable on almost any type of material including gold, platinum, silver, brass, stainless steel, carbide, copper, titanium, aluminum, as well as a wide variety of medical-grade alloys and plastics.
Non-contact laser marking is known for durability, high-temperature resistance, micro coded laser marks that resist high and extreme heats applied to various materials (which means those tiny etched words won't degrade). The process includes no toxic solvents, inks or acids used on this bio-compatible base-metal.

In contrast, other traceable marking methods including: ink jet, hand engraving, and dot-peen marking cannot always be counted on not to fade, run or become less discernable as time passes.
The wear and tear and time-affected corruptibility of markings that are not laser etched has become obvious to product engineering professionals. So much so that laser marking is routinely called out for products that have life time traceability requirements imposed on them.
This inherent time-induced corruptibility is why the non-contact laser marking process is changing how routine etching and engraving is done today.
Whether you are looking to reach into new markets, trying to maintain existing business or would like to add a competitive advantage, selecting the right laser marking equipment with the best capabilities is critical. A fiber laser marking system from LaserStar can give you the advantage you need to compete in today's high value markets!
Examples of What a Fiber Laser Marking System Can Do:
Adherence to FDA guidelines for marking medical devices: Permanently mark titanium medical implants with highly contrasting black colored logos, part and serial numbers and machine readable 2-D Matrix codes.
Meet and exceed the Bureau of Alcohol, Tobacco and Firearms requirements. Precisely laser mark part and serial numbers onto firearms and small arms components to the depth and size required for permanent identification.
Produce eye-catching graphics into clear anodized aluminum parts for the high-end aftermarket automotive industry. You will be able to create dark, attractive marks into this material which will actually add beauty, not detract, to the overall aesthetics of the product.
Lasers are a non-contact engraving method (no tools to wear or break), so from the first serial number to the last, the character definition and depth will be flawless regardless of material hardness. Laser marking systems are reliable and rugged, simple to program and cost less than one dollar per hour to operate.
Identification text, serial numbers, corporate logos, 2-D data matrix, bar coding, graphic and digital images, or any individual process data can be produced with laser marking.
Logos, certification symbols, barcodes, serial codes, and 2-D data matrix code
Simple custom text, serial numbers, bitmaps, graphic and CAD-files (HPGL)
Marking and cutting of foils and light-gauge steel sheets (i.e., labels) in one cycle
Rapid marking on precious metals with heat-sensitive materials
Mark, polish, anneal and etch with one machine
Plastic materials: day & night design for items such as mobile phone keyboards, dashboards, and other illumination components for aerospace and automotive markets
Set up custom jobs quickly and easily.
For over 50 years, LaserStar Technologies Corporation has provided our clients with the best of American designed and manufactured technologies to increase productivity and profitability. We understand that you do indeed have a choice in today's global market, and we take our relationship with our extended family of clients as an obligation and privilege. We will be here to serve you when you are ready to discuss how a fiber laser marking system may be right for your business.
To see what the fiber laser marking system from LaserStar can do for your business; call to arrange a free no-obligation sample laser marking for your evaluation.